Engineered to kill germs in SECONDS to protect every user
HYGIENE DOOR
PUSH PADS & PULL HANDLES…
Multiple Individuals can pass through a door SECONDS apart. Surfaceskins Alcohol Gel Door Push Pads & Pull Handles are engineered by infection control experts to KILL germs in SECONDS & protect EVERY user. Over 5 years of development & validation in NHS Laboratories, hospital & schools to help provide ultimate touch protection.
Push Pads
View our range of push
pad designs, including
custom branding options.

• Complete Pack Sizes
• Refill Packs
• Holsters
Find out more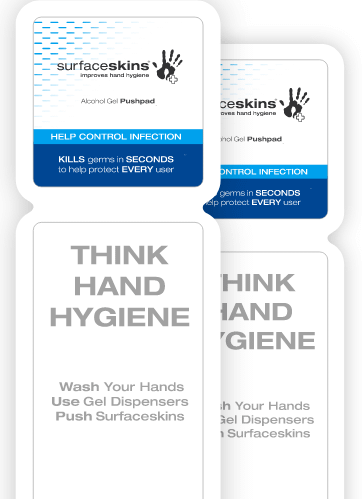 Pull Handles
View our brand NEW
Pull Handle, with refill gel
bottles.

• Snaps to existing Handle
• Easy to fit
• Refill Gel Bottles


Find out more
Key Infection Control Role
The problem
"80% of infections are transmitted by hands"
Centre for Disease Control & Prevention
Multiple people can pass through a door seconds apart. It only takes one person depositing germs on the door plate to potentially put subsequent users at risk.
The solution
Surfaceskins are engineered to self-clean in seconds, preventing the spread of germs and protecting every user.
How it works
Surfaceskins release alcohol gel, killing germs in the vital seconds between one user and the next passing through the door.
Supports & actively promotes existing infection control practices
Study shows implementation of Surfaceskins INCREASES hand hygiene compliance & awareness by 80%.
Engineered to KILL deposited germs in SECONDS not hours
Kills germs in SECONDS
Alternative copper, silver & plastic based products can take many hours to achieve a similar germ kill level
Proven in multiple successful In-Vitro Trials, with excellent performance data & two key JOHI study publications
Promotes existing Infection Control Practices & Proven to increase gel dispenser usage by 80%
Demonstrates commitment to hygiene & well-being for staff, patients & visitors
Validated in NHS Laboratory
Low Cost & Quick and Easy to Install