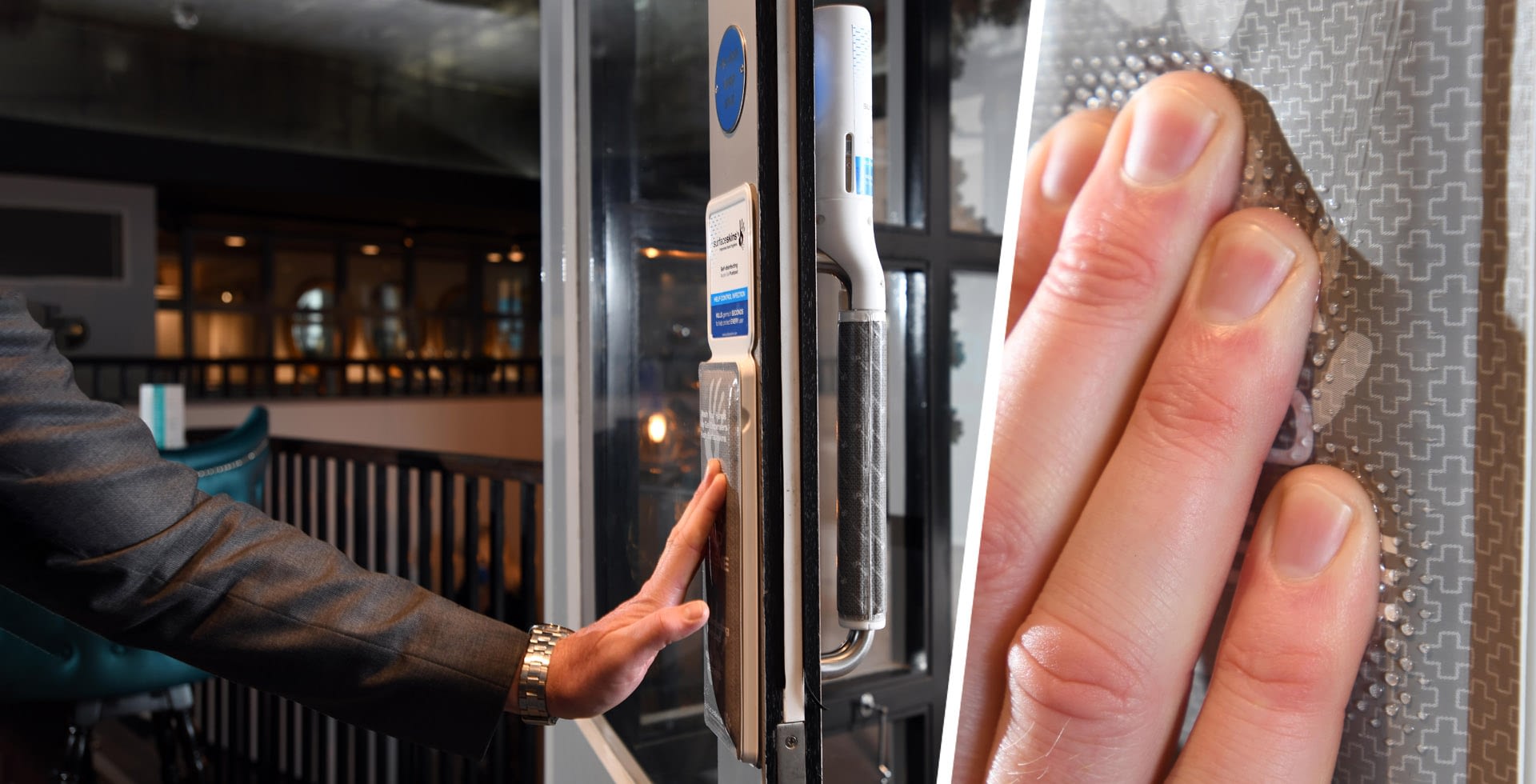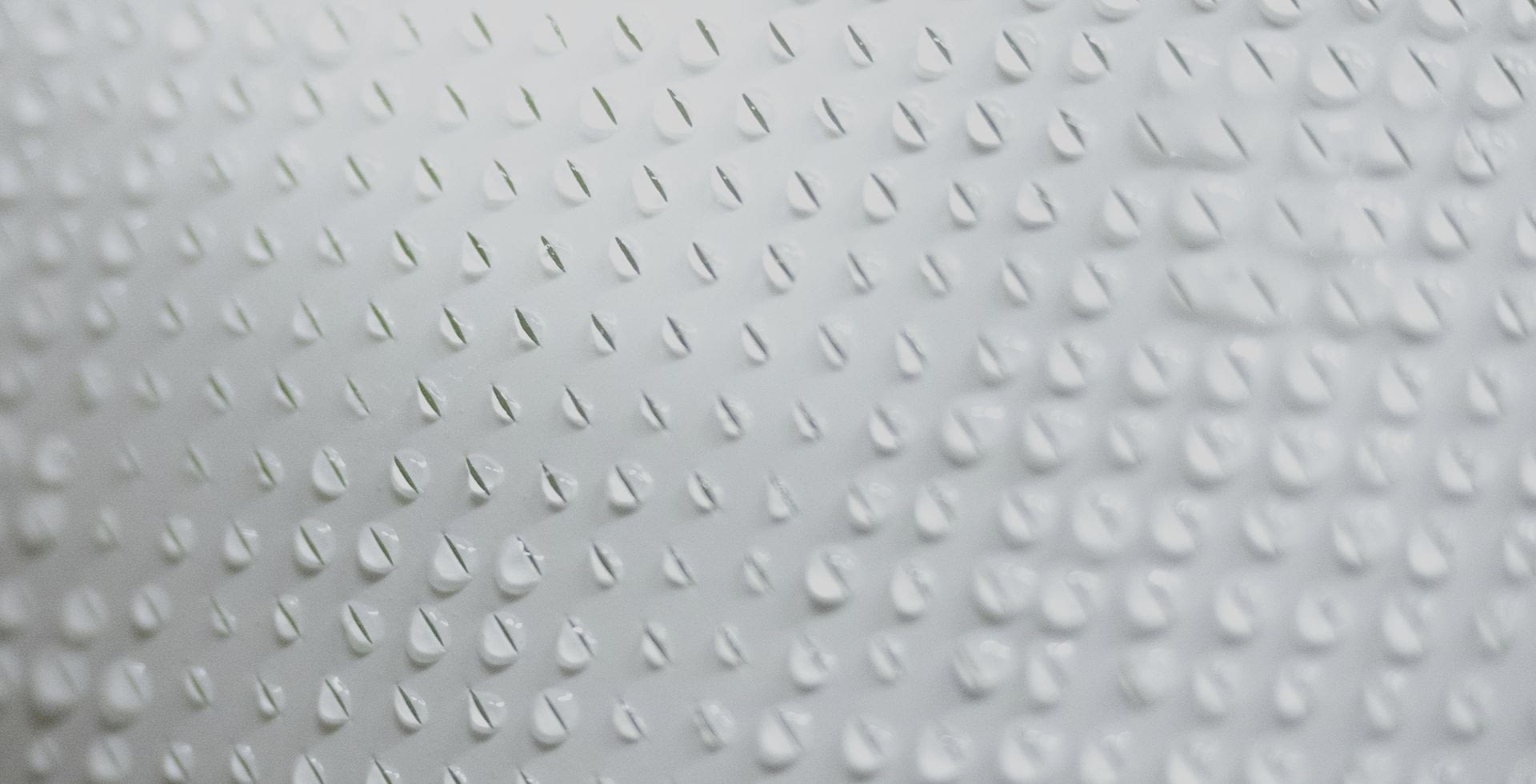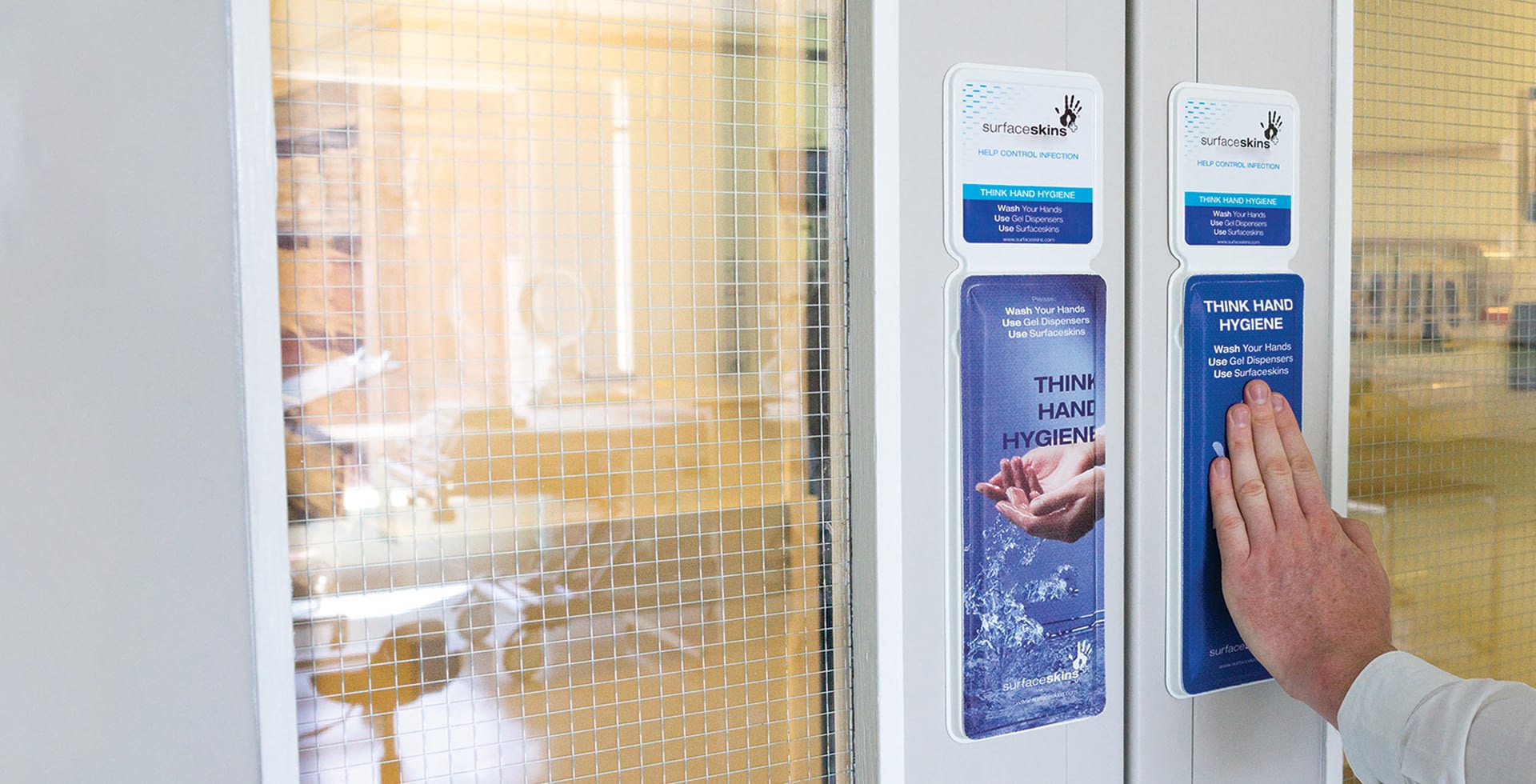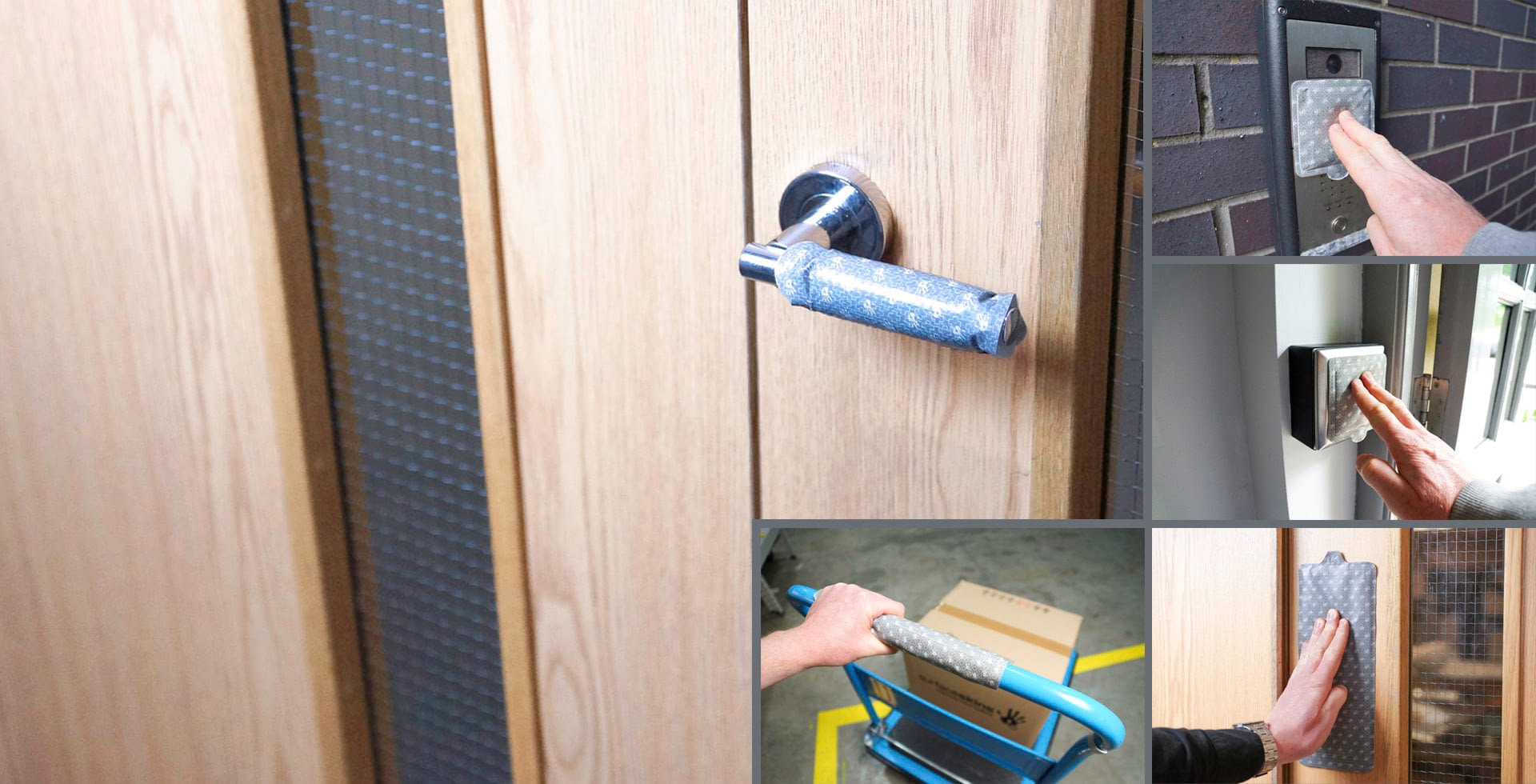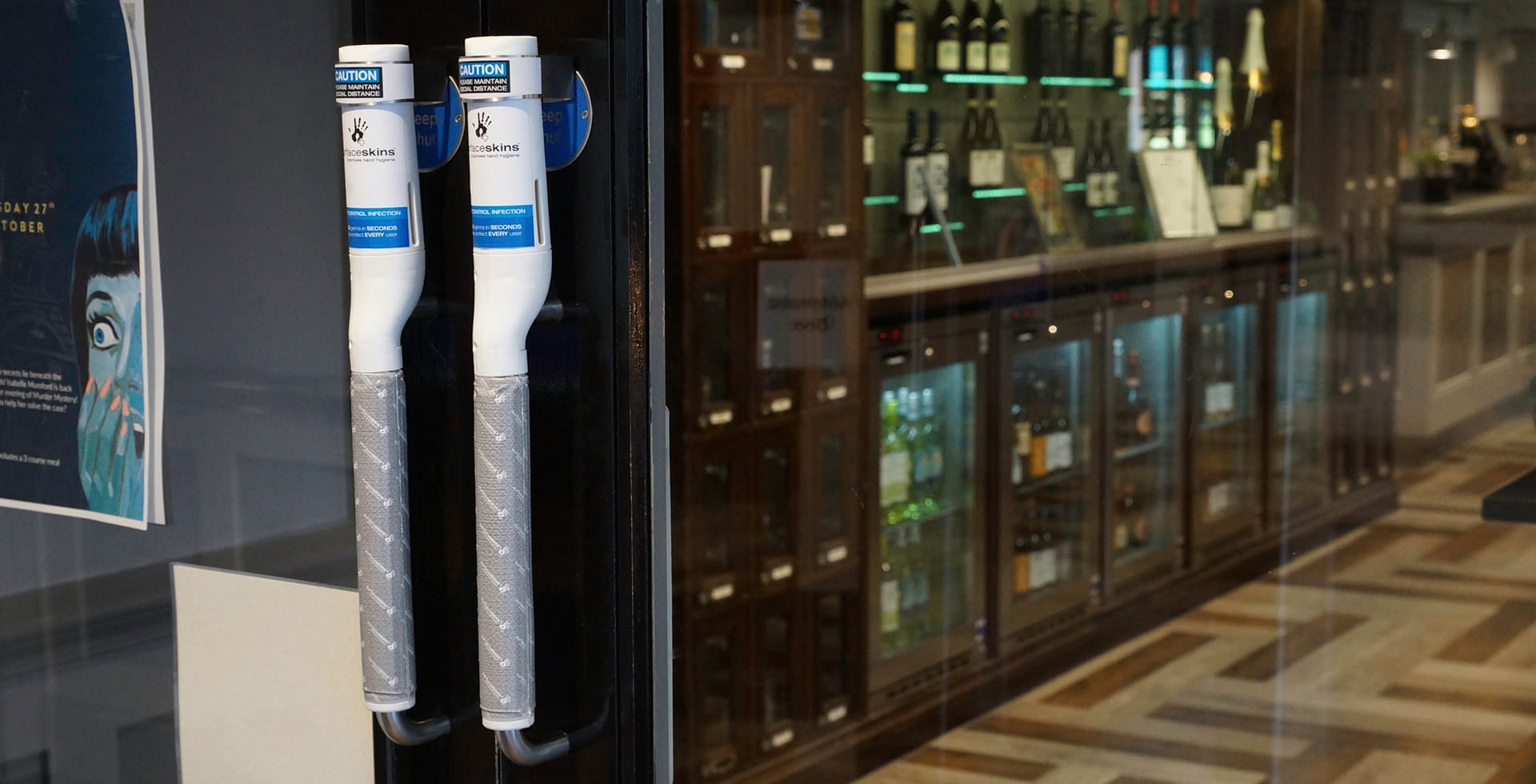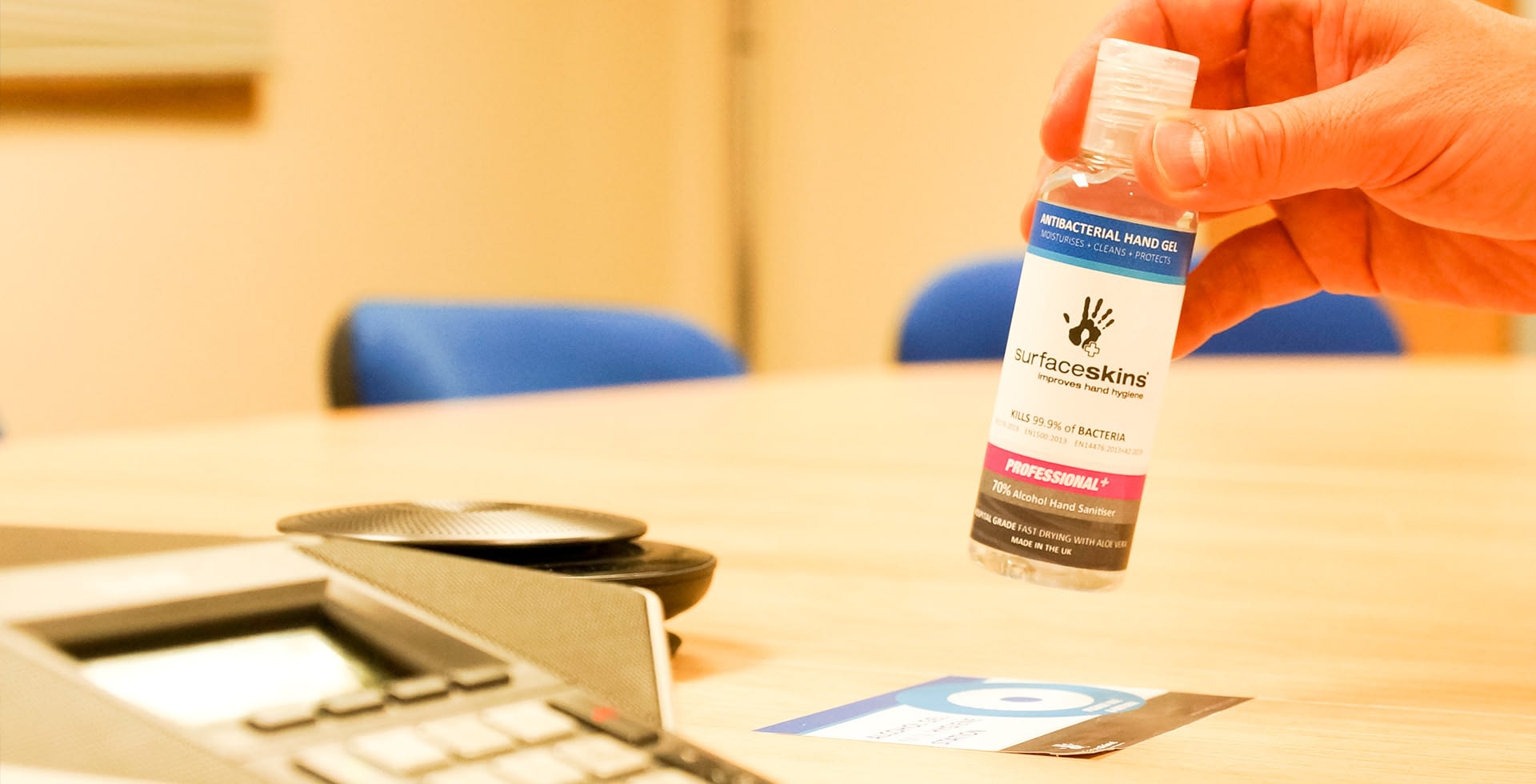 PUSHPADS & PULL HANDLE SPLIT SCREEN
KILLS germs in SECONDS not HOURS
Alcohol Gel Door
Push Pads & Pull Handles
ULTIMATE DOOR
TOUCH PROTECTION
GEL EJECT TECHNOL
ULTIMATE TOUCH PROTECTION TECHNOLOGY
Self-disinfects in SECONDS
to PROTECT EVERY user
TWO PUSHPADS IN NHS
Alcohol Gel Door Push Pads
KILLS germs in SECONDS
to PROTECT every USER
STICK + PROTECT
KILLS germs in SECONDS not HOURS
NEW STICK + PROTECT
ULTIMATE Versatile
Protection
PULL HANDLE ONLY
KILLS germs in SECONDS not HOURS
Introducing the NEW Hygiene Pull Handle

GEL RANGE
HAND GEL BOTTLE RANGE with "RETURN TO LOCATION STICKERS"
SLIDER-1-v1
Alternative Copper, Silver & Plastic based Products
can take MANY hours to achieve similar germ kill level
Multiple Individuals can pass through a door SECONDS apart. Surfaceskins Alcohol Gel Door Push Pads & Pull Handles are engineered by infection control experts to KILL germs in SECONDS & protect EVERY user. Over 5yrs development & validation in NHS Laboratories, hospital & schools.
Engineered to KILL deposited germs in SECONDS not hours
Kills germs in SECONDS to help PROTECT EVERY USER
Alternative copper, silver & plastic based products can take many hours to achieve a similar germ kill level
Proven in multiple successful In-Vitro Trials, with excellent performance data & two key JOHI study publications
Promotes existing Infection Control Practices & Proven to increase gel dispenser usage by 80%
Demonstrates commitment to hygiene & well-being for staff, patients & visitors
Validated in NHS Laboratory
Low Cost & Quick and Easy to Install
Key Infection Control Role
The problem
"80% of infections are transmitted by hands"
Centre for Disease Control & Prevention
Multiple people can pass through a door seconds apart. It only takes one person depositing germs on the door plate to potentially put subsequent users at risk.
The solution
Surfaceskins are engineered to self-clean in seconds, preventing the spread of germs and protecting every user.
How it works
Surfaceskins release alcohol gel, killing germs in the vital seconds between one user and the next passing through the door.
Supports & actively promotes existing infection control practices
Study shows implementation of Surfaceskins INCREASES hand hygiene compliance & awareness by 80%.
Client
Testimonials
"I think Surfaceskins is a great innovation. This pandemic took the world by surprise and everything we can use to help us fight against the virus is a welcome addition to our homes. Since the pandemic broke we've stepped everything right up and we're using all sorts of chemicals to wash everything down, Surfaceskins is a welcome addition.We need to protect staff, we need to protect residents, we have a duty of care to our families and loved ones, who are really struggling at this moment in time because they can't visit and we're doing everything we can to try to allow visits but currently at the moment it's in total lockdown so we have to do everything we can to keep everything absolutely clean as possible to protect everyone."

James Rycroft: Managing Director, Vida Healthcare [Care Home]
"Surfaceskins doorplates were efficient at reducing surface contamination by S. aureus, E. faecalis, and E. coli. Reducing microbial contamination of frequently touched door surfaces, and so bacterial transfer via hands, could feasibly reduce the risk of healthcare-associated and other infections."

Professor Mark Wilcox, The Journal of Hospital Infection
"Having a healthy team has never been more important than today and here at West Park we take the health of our team extremely importantly which is why we chose to trial and use Surfaceskins in our back of house areas from kitchens, offices, changing rooms etc, to ensure our commitment to the highest level of hygiene and limit the transfer of germs and bacteria on surfaces"

Anthony Blundell Commercial Manager, West Park Hotel
"I was delighted to have trialled the product at our clinic. Surfaceskins offer a unique hygiene solution & complement our existing infection control measures, particularly for implementation in the decontamination suite. It is a product with immense potential in the healthcare sector & has excited me, our staff & our patients. Particularly during these testing times Surfaceskins gives patients & staff extra reassurance we are meeting gold standard clinical hygiene practices".

Dr. Kishan Sheth BDS. Dental Surgeon
"Surfaceskins make our elite sportsmen and women feel safer"

Aviva Stadium
"Feedback has been very positive. Customers and staff love the innovative nature of the Surfaceskins and the product provides an additional level of reassurance when using repeat touch points"

N Perkis: Resilience and Emergency Planning Manager, Leeds Bradford Airport LBA
"Fantastic product, a hassle free way to give me and my customers maximum hygiene at a affordable price. I'm really impressed with the company's high level customer service."

Aamir The Curry Counter Harrogate
"Really happy with the Surfaceskins products, the pads really reassure customers and staff at our restaurant, great product".

Agraah Restaurant