Alcohol Gel Door Push Pads & Pull Handles
KILLS bacteria & viruses such as CORONAVIRUS in SECONDS
CUSTOM Holster branding & Key Messaging
Validated in NHS Laboratories
Alternative Copper, Silver & Plastic based Products
can take MANY hours to achieve similar germ kill level
Self-disinfects in SECONDS
to help protect EVERY user
Proven to INCREASE hand washing & gel dispenser usage by 80%
Demonstrates COMMITMENT to hygiene & wellbeing for staff, patients & visitors
LOW cost & Quick & EASY to install
Engineered by infection control experts to KILL germs in SECONDS to protect EVERY user. With over 5 years of development & validation in NHS Laboratories, hospital & schools.
Engineered to KILL deposited germs in SECONDS
Effective against bacteria & some viruses, such as Coronavirus
Alternative copper, silver & plastic based products can take many hours to achieve a similar germ kill level
Proven in multiple successful In-Vitro Trials, with excellent performance data & two key JOHI study publications
Promotes existing Infection Control Practices & Proven to increase gel dispenser usage by 80%
Demonstrates commitment to hygiene & well-being for staff, patients & visitors
Validated in NHS Laboratory
Low Cost & Quick and Easy to Install
Key Infection Control Role
The problem
"80% of infections are transmitted by hands"
Centre for Disease Control & Prevention
Multiple people can pass through a door seconds apart. It only takes one person depositing germs and bacteria on the door plate to potentially put subsequent users at risk.
The solution
Surfaceskins are engineered to self-disinfect in seconds, preventing the spread of germs and protecting every user.
How it works
Surfaceskins release alcohol gel, killing germs & bacteria in the vital seconds between one user and the next passing through the door.
Supports & actively promotes existing infection control practices
Study shows implementation of Surfaceskins INCREASES hand hygiene compliance & awareness by 80%.
Key Products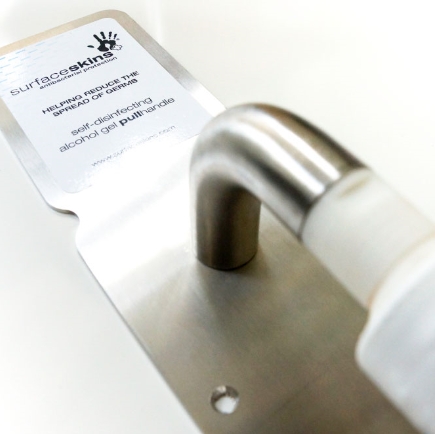 Pull Handle (Coming Soon)
Client
Testimonials
"Surfaceskins doorplates were efficient at reducing surface contamination by S. aureus, E. faecalis, and E. coli. Reducing microbial contamination of frequently touched door surfaces, and so bacterial transfer via hands, could feasibly reduce the risk of healthcare-associated and other infections."

Professor Mark Wilcox, The Journal of Hospital Infection
"Surfaceskins make our elite sportsmen and women feel safer"

Aviva Stadium
"I was delighted to have trialled the product at our clinic. Surfaceskins offer a unique hygiene solution & complement our existing infection control measures, particularly for implementation in the decontamination suite. It is a product with immense potential in the healthcare sector & has excited me, our staff & our patients. Particularly during these testing times Surfaceskins gives patients & staff extra reassurance we are meeting gold standard clinical hygiene practices".

Dr. Kishan Sheth BDS. Dental Surgeon
"Fantastic product, a hassle free way to give me and my customers maximum hygiene at a affordable price. I'm really impressed with the company's high level customer service."

Aamir The Curry Counter Harrogate
"Really happy with the Surfaceskins products, the pads really reassure customers and staff at our restaurant, great product".

Agraah Restaurant
Surfaceskins is a Trading name of Surfaceskins Limited. A Company incorporated in England and Wales, with Company Number 06529190 and whose registered office is, Nonwovens Innovation & Research Institute Ltd, 169 Meanwood Road, Leeds, West Yorkshire, LS7 1SR, UK.